Of all the rooms in your house, your bedroom might be the one that says the most about your personality. It's where you sleep, it's where you dream, it's where you start your day. And if you consider that fact that people spend 1/3 of their lives sleeping, it might even be the room you spend the most time in. You should decorate your bedroom in a way that makes you happy! Whether you're looking for a peaceful getaway or a space that makes a dramatic impact, we've collected 15 bedroom decorating ideas to inspire.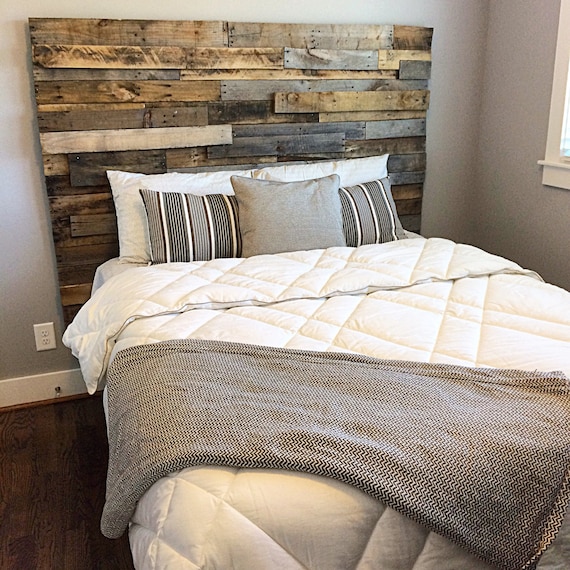 It's the classic bedroom DIY for a reason. Stain some rustic pallet wood and create a rustic masterpiece, or upholster some tiles for a tufted, softer look. This can be a really affordable way to transform your sleep space.
Chandelier for romantic touch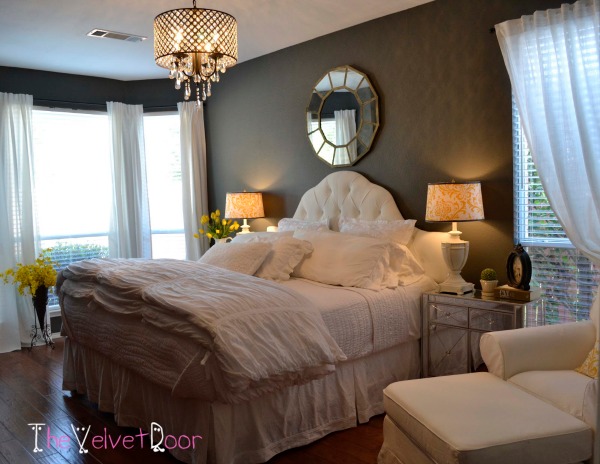 Not one to use a ceiling fan? Get a glitzy light fixture, instead. Chandeliers come in so many different options and styles. You can add a vintage, old-world touch or a modern fixture with soft-light Edison bulbs.
Never underestimate the impact that balanced textures can have on a space. Do you have sleek tile floors? Consider a soft rug. Stone or wood walls? Break it up with lots of fabric. And you can never go wrong bringing some nature inside, like raw wood elements or sea shells.
You can never have too much storage! A bench at the foot of the bed can make a gorgeous accent piece, and as an added bonus, you now have a convenient place to store your linens.
Sure, lavender smells nice, but did you know it can also help you sleep better? If you suffer from insomnia, consider adding a plant to your nightstand that has a calming and cleansing effect. Lavender, Jasmine, Peace Lily's and even Aloe Vera could do the trick.
And while we're on the subject of sleep, let's talk about that phone habit. Did you know screen time before bed significantly impacts the quality & duration of your sleep? Ditch the alarm app on your phone, put that baby on airplane mode and get retro with it. "Morning You" will thank you!
Wallpaper has come a long way over the years. Right now it's a great go-to if you need to add a pop of glam. Break up the monotony and break out the paste! How daring will you go? It's time to take "accent walls" to a whole new level.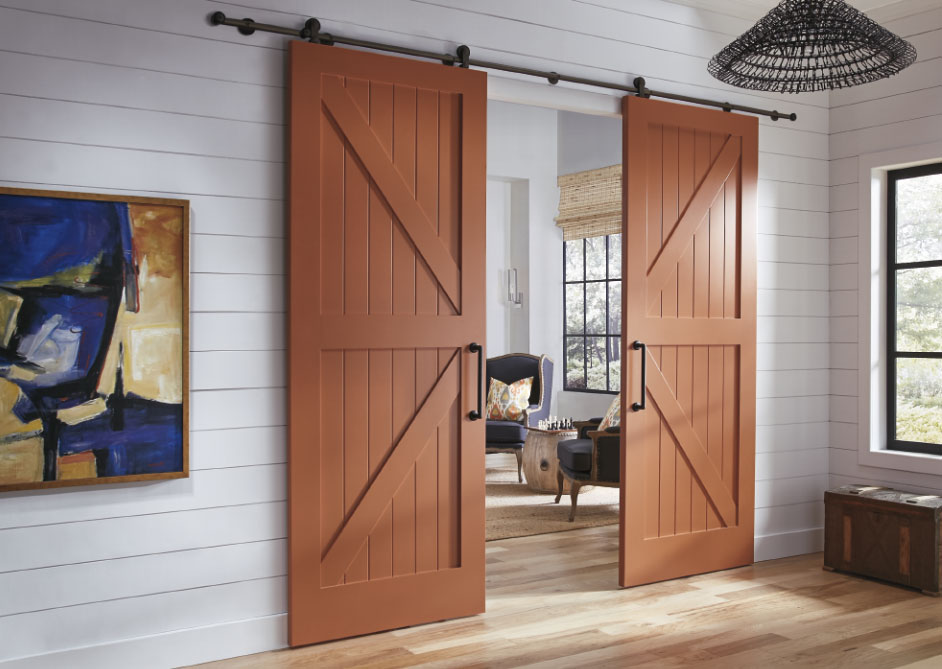 This is one trend we just don't get tired of! Turn a door into decor with a rustic metal track and some salvaged wood. It's not as intimidating as it looks – most hardware stores will have track hardware that fits the bill. But if you're not one to break out the tool kit, many of our UMH manufactured model homes have this option built-in! Check out a UMH Sales Center near you if you're on the market to move.
Woven wall hanging (peaceful)
Woven wall hangings have a sort of nostalgic, romantic feel. They're perfect for a little girl's room, or for adding a little bit of brightness to a dark colored wall. There are tons of handmade, vintage options on Etsy!
Are you lucky enough to have too much space, and aren't sure what to do with it? Consider creating a place to pamper yourself in your master suite. You can DIY a built-in with shelving and a mirror or purchase a vanity table – many of which you can get for under $200!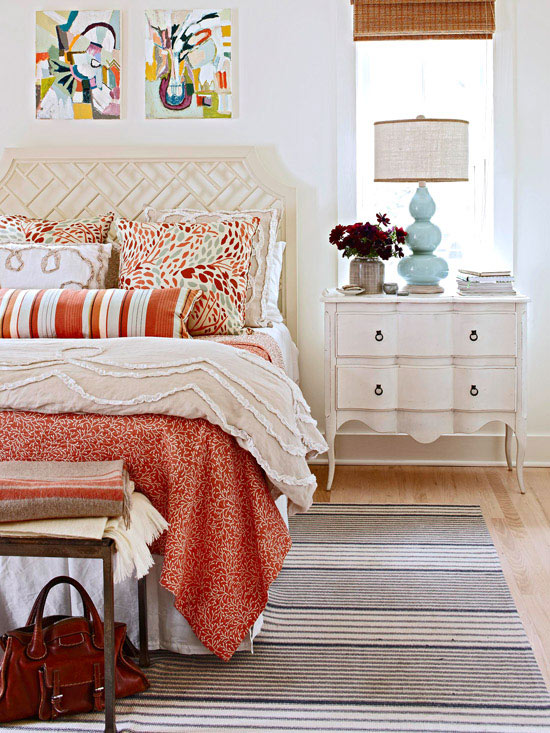 Think you can walk the tightrope that is pattern matching? Here are a few hints for mixing like an HGTV master: large patterns go best on small areas, small patterns on large ones. Patterns look best in odd numbers, and when the color hues match. And remember, balance is key!
Nothing says elegance and sophistication quite like a ceiling-to-floor length curtain. Use them to break up monochromatic colors, add patterns to a space or simply to keep the sun out in the morning and the city lights out at night.
Cozy up your chambers with something you can really sink your feet into. Imagine touching your toes to this silky smooth faux fur every morning. Who needs slippers?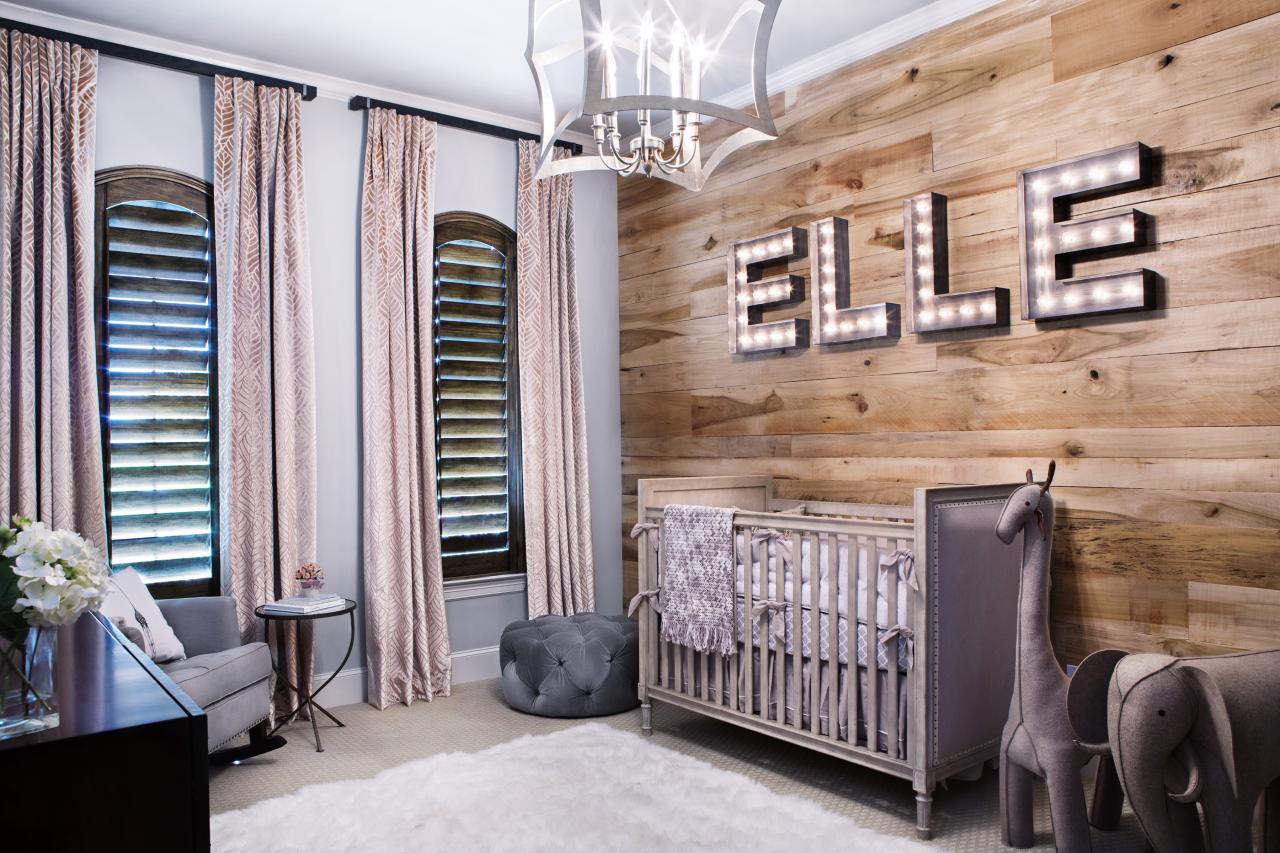 Every room needs one: A place on the wall that draws the eye and becomes the room's center. Use a large piece of canvas art or a standout headboard. Or, if you're adventurous, try a DIY neon sign – which can be a lot of fun for kid's rooms and nurseries.
Craving an update, but have a tight budget? Take a trip to Home Depot and take a stroll down their cabinet and furniture hardware section. A new set of drawer pulls for a nightstand or dresser can clock in at well under $100, and might just add that finishing touch that you didn't even know was missing.
These are a few wonderful ways to update your existing bedroom. But did you know that when you buy a new home through UMH Sales Center, you can start decorating your bedroom before you even move in? If you're on the market for a new home, find a UMH Sales Center near you and start building your dream!